Russian style Azu in pots with pickles from Uncle Vanya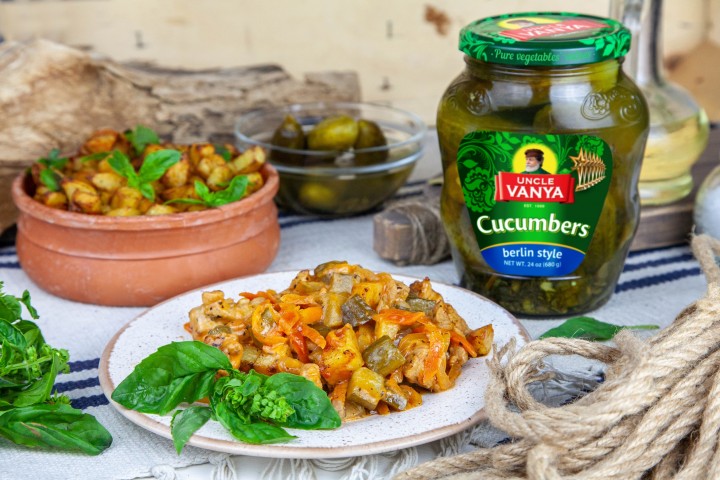 Pickles are an essential part of our daily meals, we eat them as is, cook with them, add them to cocktails or juices. So it is always a good idea to find new recipes with favorite pickles. Ready to taste something new? Azu with pickles here! You can prepare this dish both for a friendly gathering and for a family evening. The wonderful smell of high-calorie Azu with pickles will not leave anyone indifferent for sure.
Ingredients for 4 servings
Potato – 3 pcs
Pork – 300 g
Onion – 1 pc
Bay leaf – 1 pc
Tomato paste – 2 tsp
Black peppercorn – 6 pcs
Cooking instructions
Prepare all the necessary ingredients: potatoes, pork, cucumbers "Berlin Style" from Uncle Vanya, onions, carrots, tomato paste and spices.
Cut the cucumbers "Berlin Style" from Uncle Vanya into cubes and put them on the bottom of the pots.
Cut the pork into pieces and fry in a pan with vegetable oil for 5 minutes over high heat. Also, season with salt and pepper. Place the meat on top of the cucumbers.
Cut the onion into half rings, grate the carrots on a medium grater. Now sauté the carrots and onions over medium heat until golden brown. Place in pots on top of the meat.
Peel and cut the potatoes into small cubes and fry over high heat for 5 minutes. Next, transfer to pots and add tomato paste. Preheat the oven to 390°F or 200°C. Cover the pots with a lid and cook for 40 minutes in the oven.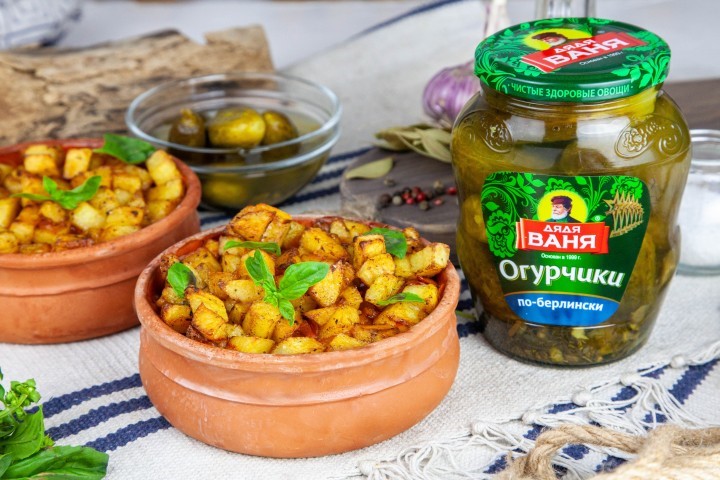 Ready to taste the Azu with pickles? Russian Style Azu in pots with pickles from Uncle Vanya is at last ready!
Bon Appétit !